The Great Kennel Reno!
It all started with a dream. A dream of a field of cement, grey and flat and dry. A dream of never having to wear hip waders to the kennels ever again! And that is how the Great Kennel Reno started.
The snow decided to fall late in the year, spring to be exact.
The "Big Dump" mid May stayed for 2 muddy weeks.
One bright and sunny day, the day after the snow stopped, I determined it was time to start "The Great Kennel Reno".
I ordered 750 sidewalk blocks and began to lay them down.
That is when it began to rain.
and rain,
and rain.
For two weeks it rained.
I had a choice, build an ark, or a giant patio....
So did what I could, and dodging the rain, and I began to lay the blocks, 1, 2, 3,...456, 457.......
**Please note, the sky in the photos....these were taken during what came to be considered a SUNNY break!

Well it took a two weeks of grunting and hauling and sweating and cursing the rain (Why can't we have our drought back for just a few days!?), but we got it ALMOST all done.....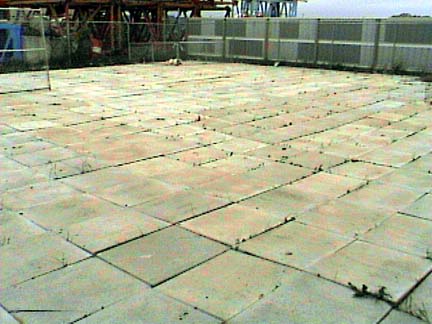 and then it began to rain..... again... and then the tornados rolled in.
...745, 746, 747, Urrrg, grunt, 748, 749...

750 sidewalk blocks later......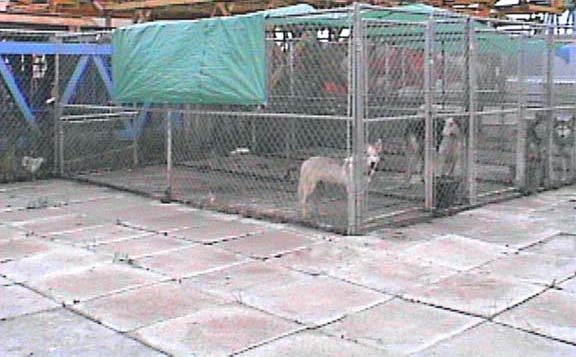 I put up the long small kennels first....
Once the dogs were in, I put up the tarps and began to haul over the houses
I still want to freshen up the paint job on the wood ones.
The small kennels are about 20' by 6'
Most are at least 12' by 12', a couple are about 20' by 40'
The inner courtyard is about 45' by 65'
I have two 7' by 10' kennels with 3' high sides in the courtyard. They are so perfect for puppies!
The dogs love using them to run around when they play tag in the courtyard.
Long story short, it is about 99% finished. I want to make a few minor changes but otherwise it looks GREAT! The kennels are all on cement, about 4500 sq feet of cement. I really prefer shavings, so I will be putting down shavings in a few kennels and add a little "Ex-pen" (like at the shows) in the courtyard. I wanted all blue tarps but I had to settle for a few green ones too.

So here is the almost finished product. I have some patio furniture (doggy proof) coming.
I am laying a pad at the back entrance to the kennel to put the cart and the dogbox on.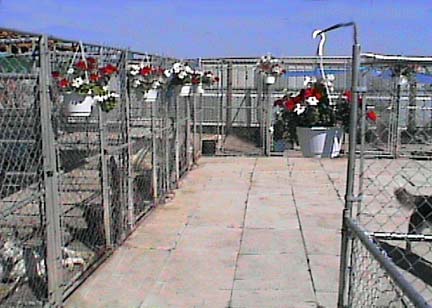 Hey, look! ....... SUN!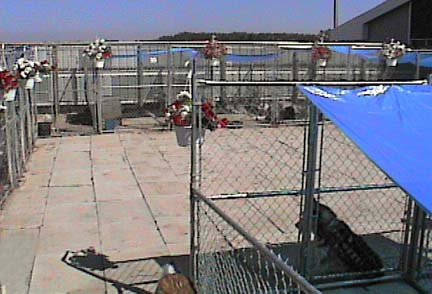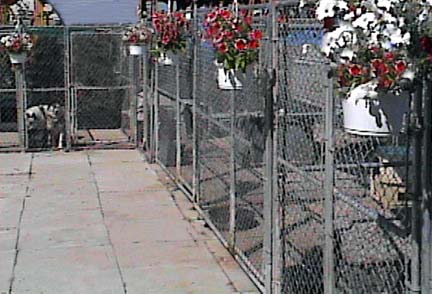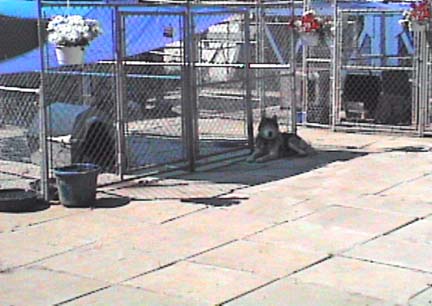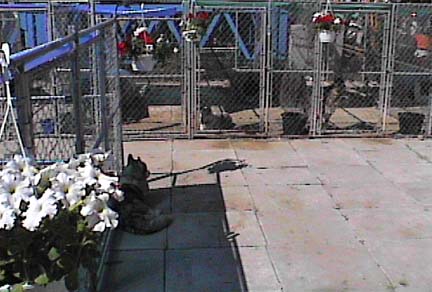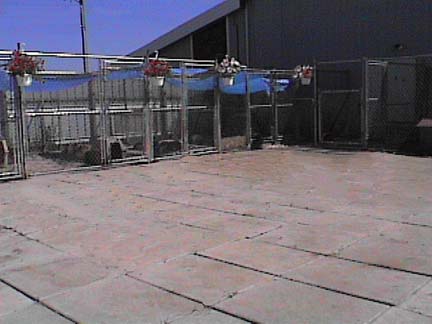 The courtyard opens to a short, gated walkway to our building,
very convenient.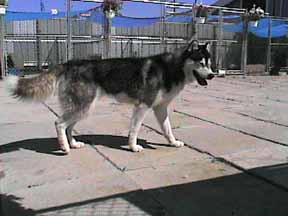 Zoolander Approved.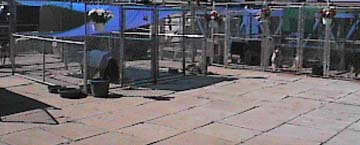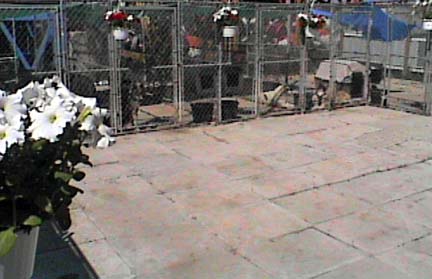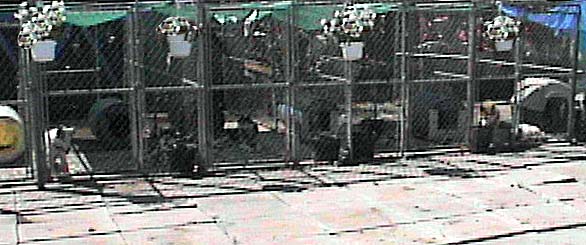 Guided tours of this amazing facility available.
Don't forget to visit the souvenir shop!

..

..

..

..

..

..